"If you go back far enough in cookery, you realize that you are not an inventor, only a recreator." Michel Guerard
Tuesday, May 3, 2011
Spring salad for lunch today.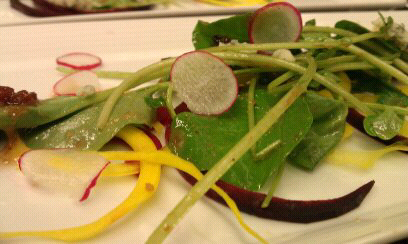 Monday, May 2, 2011
The ingredients just made sense when composing this salad today for lunch. Baby artichokes marinated in a pesto vinaigrette, salami, pickled fennel, fried capers, parmesan shavings, hot peppers, balasamic reduction, and Mache.
This is my take on a caesar salad. A parmesan custard, bread tuile, sun dried tomato aioli, white anchovy, and kalamata olive dust. Not sure which presentation I preferred.